In addition to a great jacket, a trendy pair of jeans and a killer suit, every guy needs an arsenal of cologne. Most of us have a signature scent that we swear by, but it's important to keep others on their toes by switching it up on the fragrance front. You likely have your standby scents for the office and for the club scene, but it's a good idea to keep some cool cologne on hand for a change. The way you smell is a significant part of your image, the same way keeping up with trends is significant.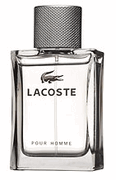 Lacoste Pour Homme - by Lacoste
This French brand has become synonymous with classic yet sporty styles, offering up everything from cool hats to polos and sweater vests that even hip-hop artists step out in. This cologne will help you embrace your confidence and show it off to those in the know.
Key notes: ruby grapefruit, Italian bergamot, apple, juniper berry, cardamom, pink peppercorn, cinnamon bark, sandalwood, vanilla bean, musk
For who? The trendsetter.
Be Delicious -- by DKNY
DKNY's latest offering (the cologne launched in 2005) represents the liveliness and toughness of New York City, from its uplifting and sensual scent to the Big Apple-shaped bottle. Don't be fooled by the somewhat feminine "Be Delicious" title -- one bite out of this bottle and you'll be ready for big-city success no matter where you live.
Key notes: green apple, coffee granita, citrus, applewood, dark woods
For who? The modern metropolitan man who also appreciates escaping to the countryside every now and then.
Burberry Brit -- by Burberry
"Burberry Brit" captures the refined, elegant and distinct style of today's modern man. Consisting of green, fresh and oriental blends, this cologne embodies a refreshing and full-bodied experience that harkens back to old-school charm. The best part about it? It's appropriate for all occasions.
Key notes: green mandarin, ginger, bergamot, cardamom, nutmeg, cedar, wild rose, oriental woods, musk, Tonka bean
For who? The man with refined sophistication, who appreciates the finer things in life.
Cool Water -- by Davidoff
This cologne's unmistakable freshness has helped it make waves for more than a decade. A splash of "Cool Water" gives men that "just stepped out of the shower" feeling that makes the ladies want to get dirty with them. Launched in the United States in 1992, "Cool Water" has become one of the most popular scents for men thanks to its aquatic nature and all-season versatility.
Key notes: marine, mint, coriander, geranium, cedarwood, oak moss, musk
For who? The sporty guy.