Q1: WHAT ARE THEY?
Some quality odor blankets.
Okay, bud, just because summer's passed and you've cut down on the sweating, you haven't stopped stinking. Perfume Bay offers plenty of nice scents to cloak that man-stank.

Q2: WHO ARE THEY FOR?
The mindful and the oblivious.
The luckier among us can pick up on our more unpleasant natural odors. Plenty of guys, however, can't -- although everyone else can. Whatever camp you fall in, make sure you're covered in the smell department with a cologne from Perfume Bay.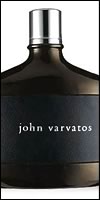 Q3: WHY ARE THEY UNIQUE?
Rare prices and products.
Beyond saving their clients a bundle on retail costs, Perfume Bay's catalogue incorporates hard-to-find scents and miniatures. So you can land that elusive cologne at an elusive price.

Q4: WHEN DO YOU USE THEM?
The right scent for the right time.
John Varvatos and Liz Claiborne both offer colognes that would be well-placed in most situations, social and professional. You may want to wait for the right occasion, however, to bust out the Armani Black Code. That stuff has the power to melt women's brains.